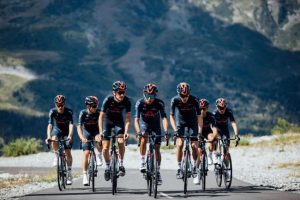 Welcome to What The Tour de France Can Teach You About Advertising, 2020 COVID-19 edition. This is my annual post where I use professional bicycling's Tour de France as a vehicle to help improve your advertising. You can catch up on previous entries here.
Because of COVID-19, this is obviously a weird Tour de France. It's running in August and September instead of its normal spot in July. And, if there's a coronavirus outbreak, entire teams could pull out before it's over. That is, if the race even manages to make it to the finish in Paris.
Beyond that, one of the more intriguing aspects to this year's Tour is the makeup of Team Ineos. Though led by defending champion Egan Bernal and a cast of capable support riders, the Ineos roster gained more attention for who was omitted. Notably, that includes 2018 Tour de France winner Geraint Thomas as well as four-time champion Chris Froome.
While pro racing teams always try to assemble their strongest lineup for a grand tour, omitting two previous Tour winners is unusual. One could argue Froome's recovery from a horrific crash and Thomas's poor form were reason enough to leave them home. Or perhaps, at age 35 and 34 respectively, Froome and Thomas are past their primes. Ultimately, however, Ineos likely assembled their team to specifically support the 23-year old Bernal. Further, omitting Froome and Thomas likely avoids any loyalty battles that could arise with three previous winners in the lineup. (And, yes, Ineos does have a Plan B. Richard Carapaz, the 2019 Giro d' Italia winner, is also riding for Ineos (and Bernal) in this year's Tour.)
What does this have to do with your marketing and advertising?
Simply put, if you're assembling your company's yearly advertising plan, do it like a pro cycling team assembles a Tour de France lineup. That is, assemble the elements of your ad plan so that each one works toward the goal of promoting your business and boosting your sales.
Just as cycling teams are comprised of riders with different strong suits, diversify your ad plan to reach a broader audience. And, while Team Ineos looked strong with Froome and Miller in January, things had changed by August. If the ad plan you assemble in January isn't delivering in June, reallocate to what's working and cut what's not. Finally, just as Ineos was assembled to score an overall win in Paris, keep your focus on the big picture. Facebook "likes" and email opt-ins are great, but they mean nothing if they don't produce a return and boost your company's bottom line.
Chris Froome and Geraint Thomas have five Tour de France titles between them. However, when assembling their 2020 Tour squad, Ineos clearly asked, "What have you done for me lately?" When assembling your ad plan, it's easy to go with what's worked previously. Remember that advertising media, and the way it's consumed by your target audience, is constantly evolving. What worked five years ago may be passé today. When assembling your company's yearly advertising plan, focus on what will increase your sales today. Constantly review and audit your ROI. If one area isn't performing, replace it with something that will deliver, so that your advertising keeps you ahead of the competition.
Finally, if you need help with your advertising plan, give us a call. We may not have won any Tour de France titles, but we can definitely get the wheels turning to keep your sales rolling!